Nelson Street View
Use the - and + on the first map to zoom in and zoom out.
Drag to position on the area you are interested in.
Drag the yellow peg man figure and blue lines will appear on streets that have a Street View.
Drop the yellow peg man figure on a blue line to get a Google Street View of that street.
The street view is shown beside the map or below the map.
Nelson Central Map
Nelson Driving Directions
Nelson Maps
Nelson Satellite View Maps
Tour Nelson

Tour Nelson Area
Brightwater Motor Inn Nelson
- Motel.
Set in Nelson, 15 km from World of Wearable Art & Classic Cars Museum, Brightwater Motor Inn Nelson offers...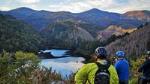 Electric Mountain Bike Tours, Rentals & Trail Adventures
- City Tour - Nelson.
Starting from $145.00 per person
.
We are an Electric MTB Company specializing in off road trail tours & multi day adventure packages on our 2018...