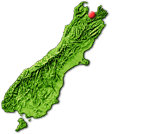 Nelson
Nelson
Nelson, the geographical centre of New Zealand, is a region renowned for warm sunshine, fine beaches, lakes, mountains and native forests. The City of Nelson is large enough to offer all the services and amenities of a large city yet is small enough to be intimate, welcoming and friendly. It is New Zealand's largest fishing port and the gateway to a major forestry and horticulture industry. Add to this the attraction of fine foods, superb wines, an innovative craft industry, spectacular scenery and traditional Kiwi hospitality and you can understand why Nelson is a place to which holiday makers flock all year round.
The journey from the city of Nelson into the western region of Golden Bay and the Abel Tasman National Park is truly spectacular. Here the beautiful coastline is famous for clear blue waters and pristine golden sand beaches. The Abel Tasman national Park can be explored by guided walks, sea kayak, cruise boat, water taxi or freedom walking - experience penguins, seals, dolphins and native birds all set in lush native forest and beautiful beaches.
Inland Nelson is a wonderland of water adventure, including kayaking, rafting, boating and for those who prefer fishing, the Nelson Lakes area provides some of the best trout fishing in the world.
For those who enjoy their water frozen, skiing and even ice skating make the Nelson Lakes a popular winter destination. The area is well served by some exquisite luxury lodges hidden away among mountains, lakes and exotic native bush settings.
The township of Nelson is well known for its skilled and innovative artisans, especially in pottery, glass making, bone carving, and jewellery. Local restaurants can tempt the most discerning palate with their superb seafood including: mussels, scallops, oysters, seasonal whitebait, geoduck and many fish varieties. The Taste Nelson festival is held each year to celebrate these culinary delights.
For natural wonders in the area visit the crystal clear Waikoropupu Springs which hold the world record for the clarity of their fresh water, or descend Harwood's Hole, which at 357 metres (1170 ft), is New Zealand's deepest vertical shaft. Farther west is the unique Farewell Spit. Over 100 species of birds visit this area each year, some from as far afield as the Artic circle - four wheel safaris into this area are becoming increasingly popular.
Nelson, blessed by nature as a destination which offers almost everything, is not to be missed in any tour of New Zealand. The region is easily accessible, being one and half hours drive from Picton, the gateway to the South Island via Cook Strait, or 5 hours drive from Christchurch, and is served by regular flights from all over New Zealand.
---

Featured Nelson Events
---
Tour Nelson

Tour Nelson Area
Great Tasman Outlook - Nelson Holiday Home
- Holiday Home.
Offering free WiFi and free private parking, Great Tasman Outlook - Nelson Holiday Home is situated in Nelson, just 1.6...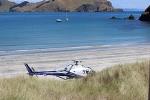 D'Urville Indulgence - 'Catch and Dine'
- Air Tour - Nelson.
Starting from $4125.00 per person
.
Included in this adventure:
• Approximately 120 minutes flight time over Tasman Bay coastline, and D'Urville...